Data privacy training courses
Online GDPR and PECR training courses from Measured Collective help you train your team properly, so you get it right and skip the fines.
Learning with us
GDPR Essentials
UK GDPR (DPA18) – EU GDPR
Learn the essential GDPR knowledge you need to know to fulfil your role. This course gives each learner a solid awareness of GDPR. It also covers key areas where common compliance risks arise. Such as recognising SARs (subject access requests), data security and data breaches. Interactive mini-tasks will improve your data privacy confidence throughout the course, the end of unit assessment will test your overall knowledge and allow you to gain certification.
Recommended for:
All staff as part of GDPR awareness training. Induction training.
GDPR Refresher Course
UK GDPR (DPA18) – EU GDPR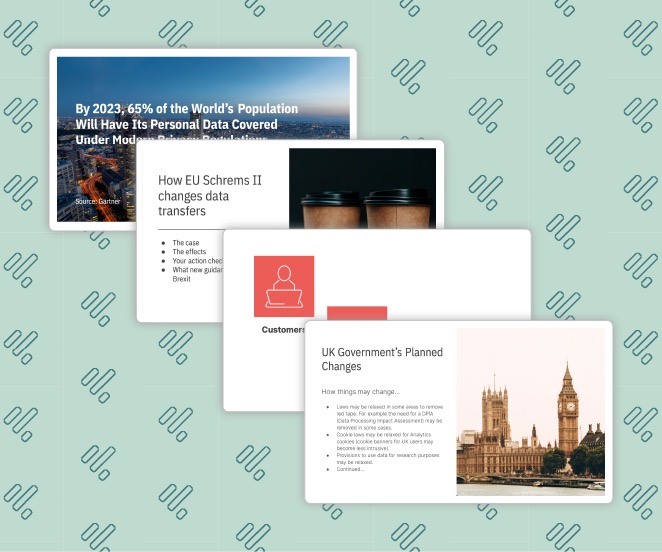 Test your current GDPR knowledge in our interactive GDPR refresher course. Video lessons will bring you up to speed with some of the most recent changes to how GDPR is applied across the UK and EEA. Interactive situational exercises will help you assess your knowledge and fill any gaps. And end of unit assessments will allow you to prove what you know and gain our refresher course certification.
Recommended for:
All staff as part of ongoing GDPR refresher training.
PECR for Marketers
UK PECR – ePrivacy
This specialist course will bring you up to speed on PECR, the UK regulation that provides rules on direct marketing and the use of tracking technologies like cookies. You'll learn how to apply the rules for b2c and b2b direct marketing. You'll also learn how to apply tracking technologies on your website or app without risking a fine of up-to £500,000 under PECR.
Recommended for:
All marketing staff who send or oversee direct marketing campaigns (email, phone or SMS). And/or use advertising and analytics tracking cookies/pixels on company websites or apps, for example Google Analytics or Hotjar. This course can also add value for data protection staff wishing to expand their knowledge of the UK's data protection and communications laws. Salespeople can also benefit from studying the direct marketing sections of this course.
Ticks every box
Aligns with the ICO's accountability framework.
Comprehensive
Everything from awareness training for new employees, to specialist training for marketing and sales teams, to refresher training for experienced staff is covered.
Engaging
Interactive scenarios and practical how-to-guides take your team from theory to practice in minutes.
The stakes are high
Reduce your risk with Measured Collective Plus
A collection of data privacy training courses that helps you get it right
What's included…
We know what it feels like to worry you're not doing the right thing
That's why we set out to make it easy to get it right
Always be ahead of data privacy law changes
No need to panic when changes to the law (like the UK's proposed changes to GDPR) come into force, or court cases change the meaning of existing laws. Your team will have access to updated materials, email alerts and new courses with the information they need to keep compliant.
Feel confident knowing your training programme aligns with the ICO's own guidance
Stop worrying that your current training programme may be inadequate and leaving you at risk of fines. Get a complete training solution that aligns with the ICO's own accountability guidance.
Never worry about your team's knowledge fading again
Frequently updated refresher modules will keep your team sharp. Assessment exercises and certificates will help you be sure that your whole team understands the data privacy laws that affect their day to day work.
How it works
Step 1
Buy your team plan
Purchase online using your credit or debit card. You can invite team members to your plan with the help of our support team. They'll each receive an invite by email.
Step 2
Start learning
Each team member will have access to all courses, interactive assessments and course quizzes. On completion of each course team members will be issued with a certificate.
Step 3
Keep ahead
Throughout the year, you'll receive email updates about changes to the law and what they mean for your compliance efforts. We'll also let you know when new training materials go live.
Buy now
Single course
Access to a single course only. Includes 6 months of course updates and email alerts.
6 months access
Measured Collective Plus
Unlimited access to all online courses and updates for the length of your subscription. Includes email alerts covering GDPR, PECR, CCPA and more so you always stay up to date. Cancel anytime.
Annual
FAQs
Will I get a certificate?
Yes, on completion of each course you will be issued with a certificate.
Do I need qualifications or previous experience to take these courses?
No. Our courses require no previous experience or qualifications.
What payment methods do you accept?
We accept major credit and debit cards. You can also pay by bank transfer on request.
Is there a money back guarantee?
You can cancel for a full refund within 14 days of purchase. Any certificates issued within this time period will be cancelled.
I need more than 10 seats and/or a custom platform
Once a seat licence is assigned to a user, you cannot re-assign it during your access period. If you are on an annual plan you can re-assign your seats at the end of your billing period by contacting support.
Can I add more seats to my plan at a later date?
Yes. Please contact sales for a preferential rate when adding extra seats to your account.
How much can getting it wrong cost you?
1. Fines
Non-compliance with data privacy laws like GDPR can be costly. Under UK GDPR, a fine can be issued of up of up to £17.5 million or 4% of the organisation's worldwide annual turnover, whichever is higher.
2. Investigations
There's no greater buzzkill than a regulatory authority like the ICO turning up to your door to audit your processes, or in response to complaints.
3. Personal liability
It's not just the company as a legal entity that can get into trouble. Individuals within the company can find themselves personally liable to be prosecuted for negligence under the Data Protection Act whether they committed the offence themselves, or they were negligent in a supervisory role.
4. Reputation damage
It's hard for customers and prospective employees to trust your brand when the first thing they find about you in Google is news about your latest data breach. And if you end up moving on to a new role, you'll need to be prepared for some awkward interview questions.
5. Losing out on investment
Investors can include data privacy law compliance as part of their due-dil, or as a bargaining chip. After all, how much is your business really worth if the customers on your database aren't even legally contactable?
6. Failing supplier due-dil
Large companies often include data privacy law compliance as part of their procurement due-dil. If you can't complete the paperwork, they can't be your customer.
7. Ethics and moral compass
Respecting the right of your customers, suppliers and employees to privacy is the right thing to do. We can all learn how to use data responsibly whilst still getting results.
8. Data deletion orders
If you are caught for non-compliance you may be ordered to delete data which was not properly acquired or processed. Similarly, applying data protection law retrospectively may oblige you to delete valuable data such as customer databases.
New on Measured Collective