Free GDPR training course
A 100% free introduction to GDPR and data protection principles.
In this short course we'll cover some of the key concepts and principles of UK GDPR. We'll look briefly at some examples of how it applies in practice and you'll get an understanding of how GDPR fits into the array of other data protection and communications laws which affect how all of us are allowed to process personal data (within a commercial context).
At the end of the course you'll have the opportunity to complete a mini assessment and gain a certificate to prove your knowledge and understanding.
You can put this certificate on your CV or LinkedIn profile.
Why is it free?
We get it – data privacy laws are complex. At Measured Collective we are committed to improving people's understanding of data privacy laws so that they can learn how to use data more effectively and rescue their risk of financial penalties or criminal prosecution. Making this basic course free means that more people can access this knowledge.
1 hour // 100% online
UK GDPR – DPA18 (🇬🇧) ∘ EU GDPR (🇪🇺)
Engaging
Data privacy isn't everyones' favourite topic, so we get to the point. Each module is designed to keep you engaged and uses examples to bring difficult concepts to life.
Free certificate
Complete the end of course assessment and you'll get a certificate which you can add to your CV or LinkedIn profile.
Regularly updated
Our team regularly reviews changes to GDPR and other data privacy laws and updates the course materials as appropriate.
Course content
Learning outcomes
Understand the key principles, data subject rights of the UK General Data Protection Regulation.
Understand how UK GDPR is enforced and how it fits into the data privacy law landscape: Data Protection Act, PECR, EU GDPR etc.
Be aware of some of your legal responsibilities under UK GDPR as an employee or owner of an organisation/company that processes personal data.
GDPR Training Recommendations
All employees should receive at least basic GDPR awareness training before they start processing personal data.
Employees who process significant volumes of data or who perform high risk data processing activities such as sales and marketing staff should receive additional training.
All employees should receive regular refresher training once to twice a year to ensure that they still understand how to apply GDPR and that they understand the legal impact of any recent changes.
Recommended for:
Gaining a basic understanding of GDPR and data protection concepts. For employee training we recommend our more thorough GDPR Essentials Course which will help you meet your responsibilities under the accountability principle of UK GDPR. If you already have knowledge of GDPR and have not completed further training within the last year we recommend that you try our GDPR Refresher Course.
Prerequisites
There is no prerequisite for this GDPR training.
What do I need for this course?
This course is 100% online. You will need a computer and a stable internet connection to access the video lessons and interactive assessments.
Modules
Overview of GDPR

When does GDPR apply?
UK GDPR and EU GDPR
Fines and enforcement
High profile fines

Principles

Lawfulness, fairness and transparency
Purpose limitation
Data minimisation
Accuracy
Storage limitation
Integrity and confidentiality (security)
Accountability

Rights of the individual

The right to be informed
The right of access
The right to rectification
The right to erasure
The right to restrict processing
The right to data portability
The right to object
Rights in relation to automated decision making and profiling

Assessment – certificate on passing (score 75%+)
What you'll learn…
In this course we cover many of the most important concepts of GDPR and related data privacy laws. You'll finish the course with a firm understanding of what personal data is and what situations are covered by GDPR.
You'll also have a basic awareness of each of the principles of GDPR and the rights of individuals (data subjects).
Sign up now
The next cohort starts on 24th August 2022.
What happens next?
First, please make sure you confirm your email address. If you do not confirm you will be removed from our list. After you have confirmed we'll email you with more details about the course. We'll let you know when the next cohort is scheduled to begin and send you your login details so you can start learning for free on the 24th August 2022.
FAQs
We'l email you shortly after you register using the form. We'll provide you with login details for our online learning platform so you can access the course content.
Free course customers will get 3 months of course access. You can complete this course within 1-2 hours, so this gives you plenty of time to come back and review the content.
At the end of the course there is a mini-assessment. Score 75%+ and you'll receive a certificate from us.
More data privacy courses
GDPR Essentials Online Course
The GDPR awareness course that will give everyone the knowledge they need to know about UK GDPR and EU GDPR.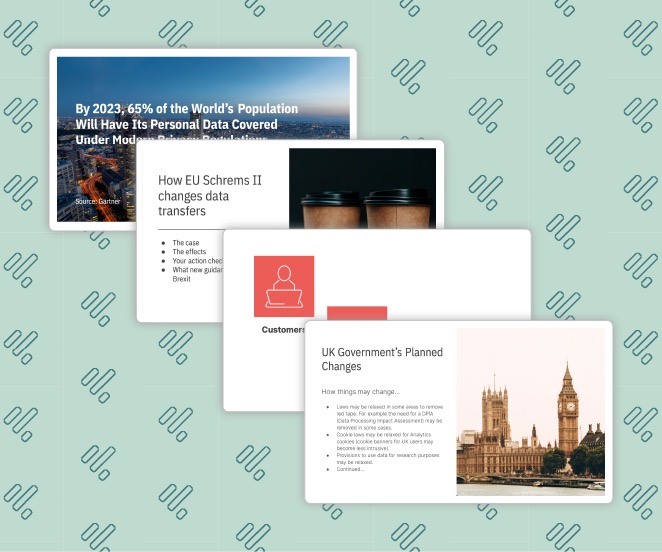 GDPR Refresher Training Course
A short interactive online GDPR refresher course that will keep your knowledge of GDPR sharp and help you reduce your risk of financial penalties.